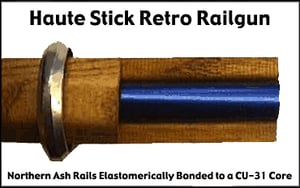 $

39.99
Introducing the 'Retro Railgun' from Haute Stick Lacrosse
Three years in the making, the "Retro Railgun" is a backwards jump in lacrosse shaft technology.
The Retro Railgun is designed for those lacrosse players that love the solid feel of wood, but want the strength of more modern shafts. This shaft is the second hybrid shaft designed by Haute Stick, and continues the winning tradition of innovative lacrosse gear.
Just like the Titanium Railgun, the Retro is not just another tube; It's a complete redesign of the shaft itself. As you can see, The Retro gives you the solid, impact dampening feel of wood, but with the lighter weight of aluminum alloys.
This Hybrid Wood and Metal Shaft is one of the strongest shafts created out of wood. It is completely unlike anything you have ever seen before, and it will feel insane in your hand.
Retro
The Retro is built out of two twin rails of specially treated hardwood that is elastomerically bonded with a special high strength adhesive that never hardens like most brittle glues. The special rubberized elastomer helps to absorb impact shock and spread the vibration through to the high-strength aluminum spine. Through the integration of the elastomeric adhesive and the high strength Alloy tube, the whole shaft acts as a shock absorbing structure and can take hits that would dent even more expensive metal shafts. In fact, this special glue is so exotic it costs over $260 dollars per gallon!
Click Here for more information
All this technology is available at a very special price through our internet only special offer.
Get the Retro for a special internet price through our Factory Outlet for only $29.99 plus S&H.
For any other questions e-mail us now.